Monday, September 7, 2009 by Becky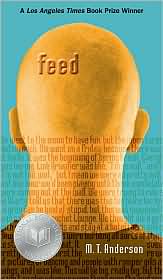 Anderson, M.T. 2002. Feed. Candlewick Press. 300 pages.

We went to the moon to have fun, but the moon turned out to completely suck.

Feed is both simple and complex; original and unique. Perhaps Titus sums it up best,
"it's about this meg normal guy, who doesn't think about anything until one wacky day, when he meets a dissident with a heart of gold...set against the backdrop of America in its final days, it's the high-spirited story of their love together, it's laugh-out-loud funny, really heartwarming, and a visual feast" (297).
Titus is our narrator and Violet is his love-interest. It all starts during spring break. On the moon. At a club. Titus, Violet, and a handful of other partying teens (mostly Titus' friends and classmates) are 'touched' by an old man. Their feeds--internal feeds--are hacked by this rebel. They broadcast--against their will--a doomsday message:

We enter a time of calamity. Blood on the tarmac. Fingers in the juicer. Towers of air frozen in the lunar wastes. Models dead on the runways, with smiles that can't be undone. Chicken shall rot in the aisles. See the pillars fall. (39)
They are taken into custody. Hospitalized. Examined to make sure that their feeds are fixed before they are fully reactivated. And all seems to be well..at first.
The feeds are responsible for so much. They deliver non-stop entertainment (music, movies, etc), non-stop advertisements and shopping opportunities, and instant connections with the world. Features such as chat and messaging, for example. Of course, with all this built into humanity--right inside the human brain--many things are being lost. Most importantly the ability to think critically, to make observations, to understand and perceive reality.
But as Titus interacts with Violet, he begins to think. And this scares him in a way. Overwhelms him. I'll be honest, Titus isn't always a lovable guy. He can be a real jerk. And Titus and his friends don't keep it clean. (So if 'bad' language offends you, then this is not the book for you.)
I'm not quite sure what to think of Feed. On the one hand, I think it's a smart novel. It challenges readers to think. To perhaps take more of an interest in the world around them. To think about cause and effect. To consider the big picture. Furthermore, it's well-written. Never for a minute do you doubt that this is Titus speaking. That this is Titus's world. The language. The dialogue. The style. Everything helps to establish this world Anderson is creating. But on the other hand, it's a bit of a downer. It's a bit sad, a bit cynical. Did I expect a happy ending? No. Would a happy ending work on this one? Never. I wouldn't think of changing it. This book tells the only story that it can tell.
© Becky Laney of
Becky's Book Reviews