Monday, October 5, 2009 by Becky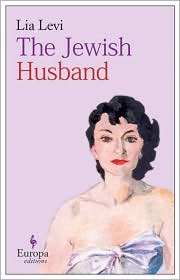 Levi, Lia. The Jewish Husband. 209 pages. (Originally published in Italy in 2001 as L'Albergo della Magnolia. Translated into English by Antony Shugaar. Published in 2009.)
Tonight, unexpectedly, I've decided to write to you. I probably won't mail it. At least not for now. But if I can bring myself to begin, I know I'll keep writing you, and for a long time. Maybe you'll read this all in one piece; perhaps these words will never reach you. Fate will determine that, or I will, if I decide to ask fate to lend me some of its power for a little while.
There was a war here. I imagine you know about it.
Who is our narrator? Who is he writing? I'll gladly answer the first one. But I hope to leave you guessing on the second! Our narrator is a young professor, Dino Carpi, his parents own a great little hotel, the Albergo della Magnolia, in fact, the family lives there. True, his childhood may not have been that typical. With hotel guests coming in and out all the time. Perhaps he's a bit more bookish than he might have been otherwise. But, all things considered, things are good. Then he meets Sonia. And wow. He's in love. Oh, he's in
love
. He finds himself changing--and fast--just to please her, to please her family. His parents and friends aren't all that happy with this new Dino, but, whatever makes him happy, right? The problem? He's Jewish. She's Catholic. It's Italy. In the 1930s. Mussolini rules. And he's getting chummier and chummier with Adolf Hitler. Will Hitler's master plans for the Jewish race become the new policy in fascist Italy? Can love survive these odds? Will Dino have his happily ever after?
I liked it. It was a compelling story. Well-written. I found this narrative approach interesting, his letters kept me hooked. Especially trying to figure out where the story was going...and who he was sharing his heart with. The details are intimate, in a way, but in a way that's raw and honest. (By intimate, I mean personal. Not sexual. Though there is some of that.) I didn't think the emotions were ever over-the-top. I didn't feel manipulated. Or cheated. Dino was not a political man. He was not an activist. (Though some of his friends were.) But he didn't need to be in order for his story to matter to me. This was his story of how the war interfered with his life, his marriage. A boy meets girl story with obstacles on a larger scale.
This one won the Moravia Prize for fiction.
Other reviews:
Bookslut
,
The Front Table
,
Jew Wishes
,
© Becky Laney of
Becky's Book Reviews